Compaction is a multifaceted challenge marked by material complexity, time constraints, and the need for uniform density.
The Dynapac CC950 is a cost effective, versatile, and efficient solution that helps you achieve compaction in tight spaces and corners without over compacting your material.
At its core, the Dynapac CC950 runs a Kubota engine with a working weight of 1350 kg, making it a robust and nimble option for various compaction jobs.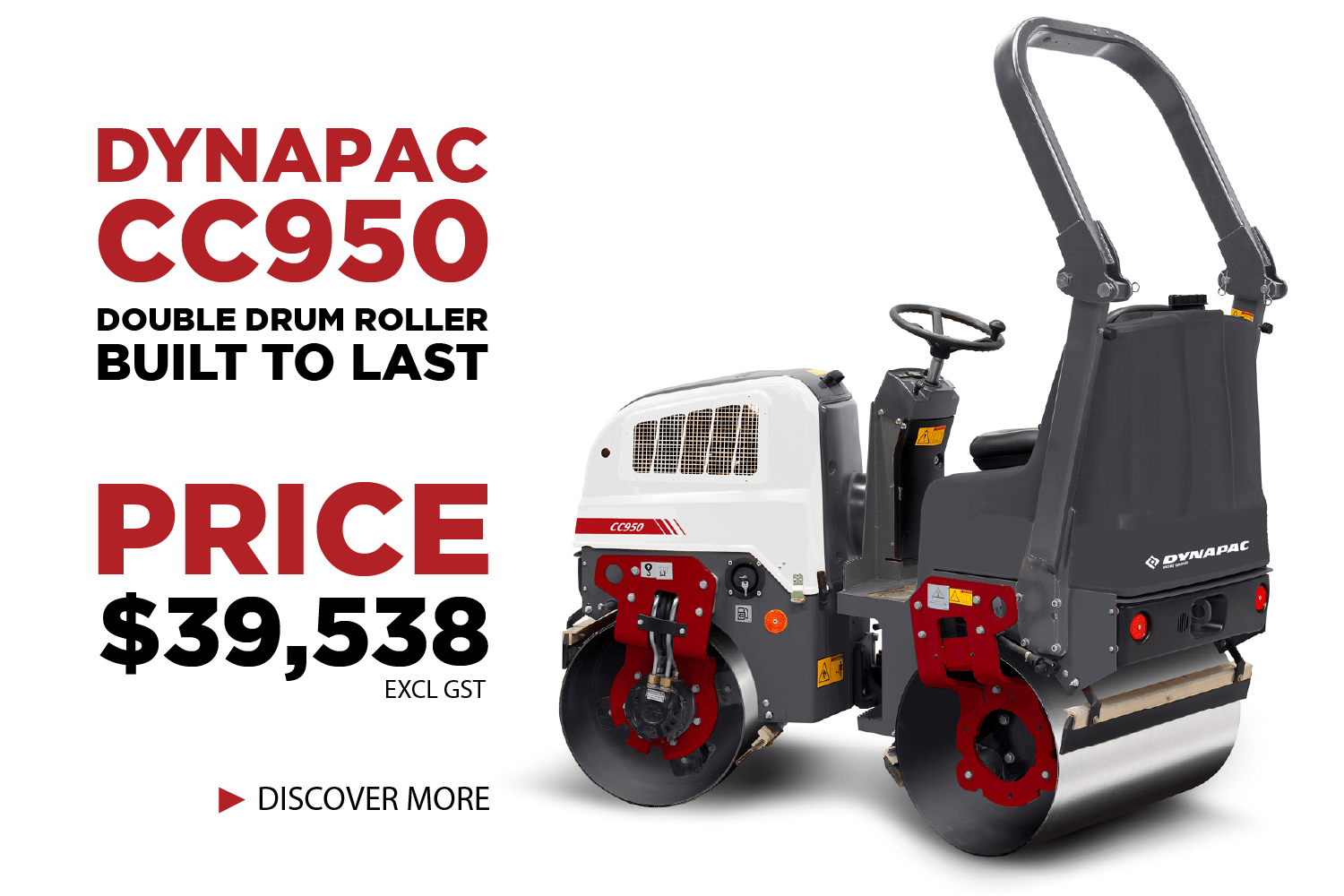 The CC950 operates at a vibration frequency of 70 Hz, coupled with a nominal amplitude of 0.4 mm. These work in harmony to achieve optimal compaction results, ensuring uniformity and stability in every centimetre of the surface. The 900 mm drum width contributes to agility and enhanced efficiency in limited working space.
Engineered for Longevity
Underneath the hood operators will find a Kubota D722-E4B engine with 14.9KW (20.3HP) of power at 3600 rpm. Though it propels the CC950 forward, it also features a vibration damper that mitigates engine vibrations, extending its operational lifespan.
The
durability of the Dynapac CC950
is what you would expect from a Dynapac compaction machine.
The durability of the Dynapac CC950 is what you would expect from a Dynapac compaction machine, this is further highlighted by the heavy-duty construction of its drum and frame. With a steel thickness of 9 mm and a diameter of up to 584 mm, this machine is built to endure the rigors of demanding construction environments, promising a longer lifetime of dependable service.
Innovation in Operation
As a front drum vibratory roller one of the notable distinctions of the CC950 is its double drum design, offering distinct advantages over single drum rollers. The presence of two drums ensures that compaction is achieved not only through the weight disbursement of the machine but also through the vibratory action of the front drum.

The inclusion of a vibration damper in both the front and rear wheels significantly reduces the transfer of vibrations to the operator. This thoughtful design consideration enhances operator comfort, minimising fatigue during extended operation periods.
Furthermore, the CC950 is engineered with user-friendly features in mind. The ergonomic operation panel, sliding seat with cup holder, and interlock safety seat switch create an environment where the operator's comfort and safety are paramount. This, combined with an easy-to-learn interface and hydraulic turning assist, ensures that both seasoned professionals and novices can operate the machine effectively.