Our people mean everything to us, they make it possible for us to deliver world class equipment and services to the New Zealand Market.
At MIMICO it is our mission to provide quality plant, equipment, and services to maximise customer productivity and profitability. With MIMICO, you are supported by nationwide service network and extensive parts inventory. Underpinned by highly trained employees, we have the motivation to ensure long term sustainable growth.
The MIMICO Way incorporates our VISION, our MISSION and our VALUES as an organisation. We are determined to succeed together as team and strongly believe that the MIMICO way will always guide our employees to maintain focus on our customers.

We take responsibility for our actions and our inactions. We remain liable to our promises.

Respect is essential for any successful team. We treat others the way we wish to be treated.

MIMICO are always sincerely open and honest in our communication across the company.

We always ensure we work as a team to ensure success across the board of our business.

We share knowledge and information with each other to benefit our team and our customers.
MIMICO operates a modern heavy machinery workshop, parts store, adjoining offices and training facilities in Matamata. Sales and service branches are also located in Auckland, Christchurch, Gore, and a distribution centre in Paraparaumu, as well as service providers across the country.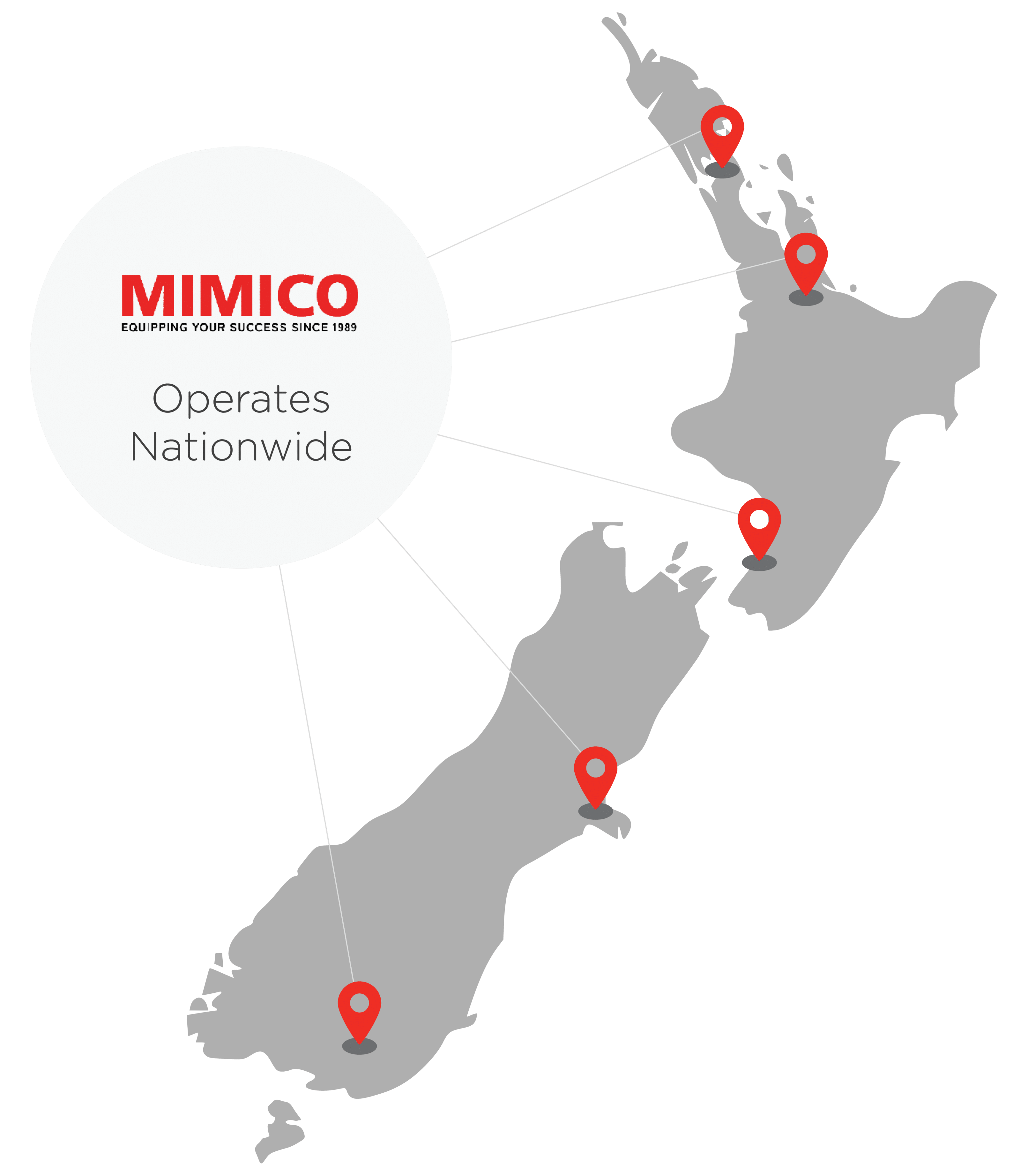 An insight into the MIMICO timeline from day one to present.
1989
MIMICO is Formed
MIMICO was established in 1989 as an indent parts supplier based in Matamata, New Zealand.
1990
The Quarrying Industry
MIMICO sells, hires, and services heavy machinery for the quarrying industry.
1991
Moxy Earthmoving Trucks
The brands offered by MIMICO expand to include Moxy earthmoving trucks.
2005
National Service Network
MIMICO develops a Nationwide Service network covering all of New Zealand.
2007
Metso Outotec Distribution
MIMICO secures the distribution rights for Metso Outotec crushers and screens.
2018
Dynapac Equipment
MIMICO becomes the official distributor for Dynapac compaction and paving equipment in New Zealand.
2022
Equipping Your Success
MIMICO now have over 110 staff across its network and 4 Workshop locations.
2023
CASE, ASV & ASTRA on board
MIMICO acquires distribution rights for CASE Construction, ASV, and ASTRA.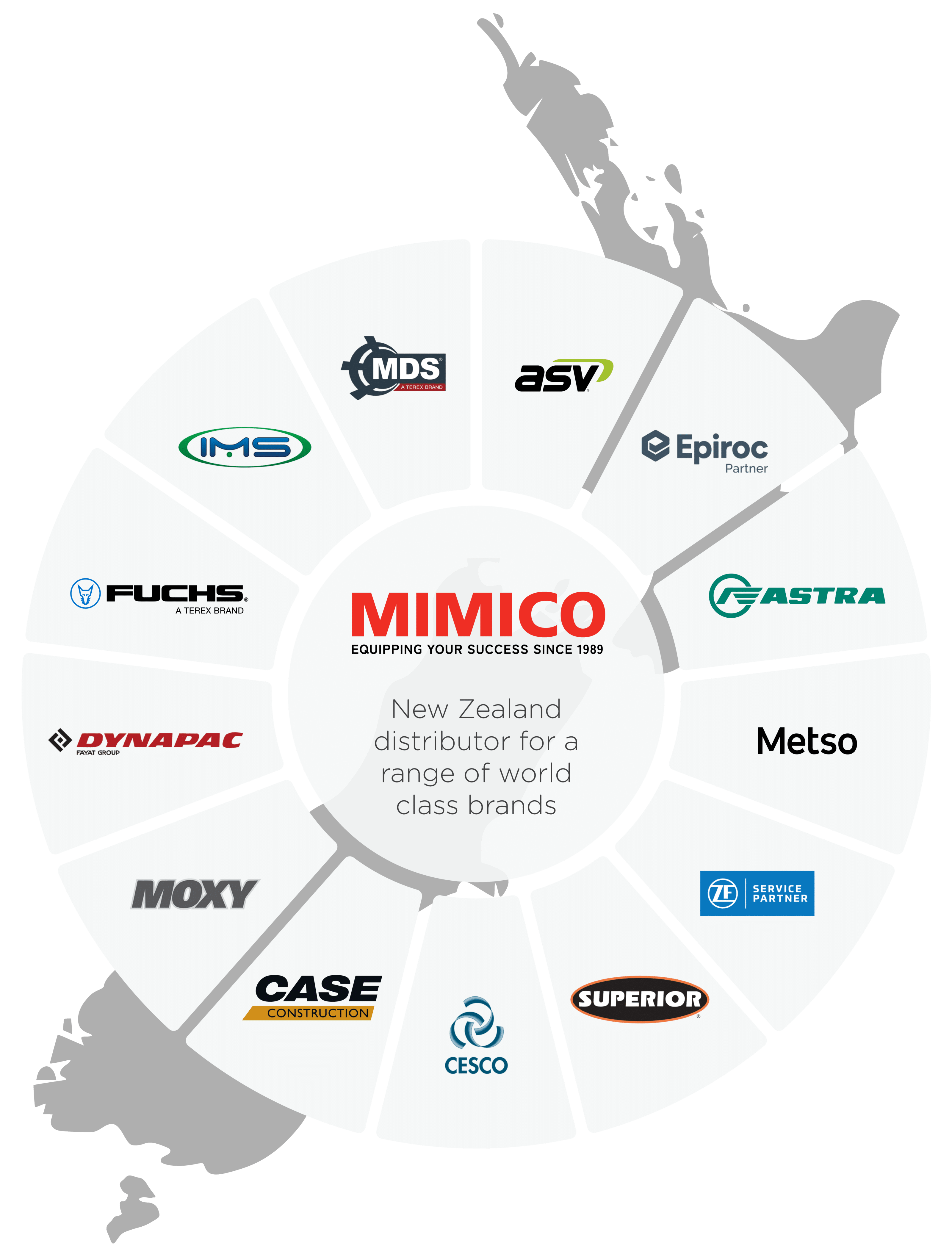 Offering World Class Brands
MIMICO is now the New Zealand distributor for Metso crushing and screening equipment, Moxy Articulated Dump Trucks, Epiroc rock breakers and demolition equipment, CASE construction equipment, ASV track loaders, ASTRA heavy-duty trucks, Dynapac construction equipment, Superior conveyors and wash systems, MDS International trommels and apron feeders, ZF transmission and drive components for construction equipment, Cesco concrete mixer bowls, and manufactures Lamella portable waste water treatment plants.
Don't just take our word for it
Over the years MIMICO has sold, hired and serviced heavy machinery throughout New Zealand for the quarrying, mining, contracting, construction, recycling and forestry industries.
We've done a good job, but you don't have to take our word for it. The real proof comes from the mouths of our customers.
What MIMICO did was work and rework their plans to make sure we had a very flexible plant that gave us options for future development.
Mike Higgins, Isaac Construction
We've had a very good relationship with MIMICO since 1996. We're two family businesses working together with very similar family values.
Ricky Leach, HG Leach & Co Ltd
The LT106 is, quite simply, the best primary I've come across. It's awesome. We can just do so much more with it. For us, efficiency and versatility are key and that's what this machine gives us.
Wayne Byford, Byfords Construction
The breaker comes in real handy on the many construction sites in and around the beach towns of Tairua, Pauanui and nearby Whangamata.
Storm Waters, Storms Construction
MIMICO told us they would get the 35 tonner down to us ASAP, and worry about sorting the details later. It arrived, and the contract really got going. Finally we had the right gear, the right staff and the right productivity.
Dave Connell, Connell Contractors
They're responsive to our needs. We do a lot of our own routine maintenance but we call MIMICO in for breakdowns and problem-solving. It's a pretty positive relationship all round.
Keith Squires, Avoca Group
Considering your next asset purchase? Speak with one of our team today. 
The Parts team at MIMICO have a comprehensive knowledge of our machinery and equipment.
MIMICO's service team are readily available to answer your servicing needs.
Our Crushing and Screening team is equipped with extensive industry experience.
The MIMICO Management team specialise in a variety of areas in the business.
Sign up to our newsletter for regular updates on news, promotions, deals and offers.