The Moxy Articulated Dump Truck (ADT) offers a larger load capacity in all weight categories. Additional load capacity, combined with superior power and traction, improve productivity. The unique advantages of the Moxy ADT's permanent 6-wheel drive, free-swinging rear tandem, front-mounted turning ring, independent front wheel suspension, and sloping rear frame provide excellent driving stability with equal weight distribution and superior traction.
Two Moxy models are available from MIMICO
The Moxy MDT30C offers best-in-class ground clearance and ground bearing pressure. Combined with superior torque at low engine RPM, and superior power and traction, it offers excellent productivity. The MDT30C provides maximum power and payload of 276 kW and 28 metric tonnes respectively.
The larger Moxy MDT45 offers the best combination of payload and efficiency in its class. Thanks to its unique design, top level productivity is delivered in all working conditions. The MDT45 offers maximum power of 358 kW and a maximum payload of 41 metric tonnes (45 short tonnes).
Permanent 6-wheel drive, together with the ground-following rear tandem and a special front-mounted turning ring, provide equal power and weight distribution and excellent operating performance. The sloping rear frame provides a lower centre of gravity – improving the Moxy's overall stability and ensuring fast and easy tipping of the body for increased productivity.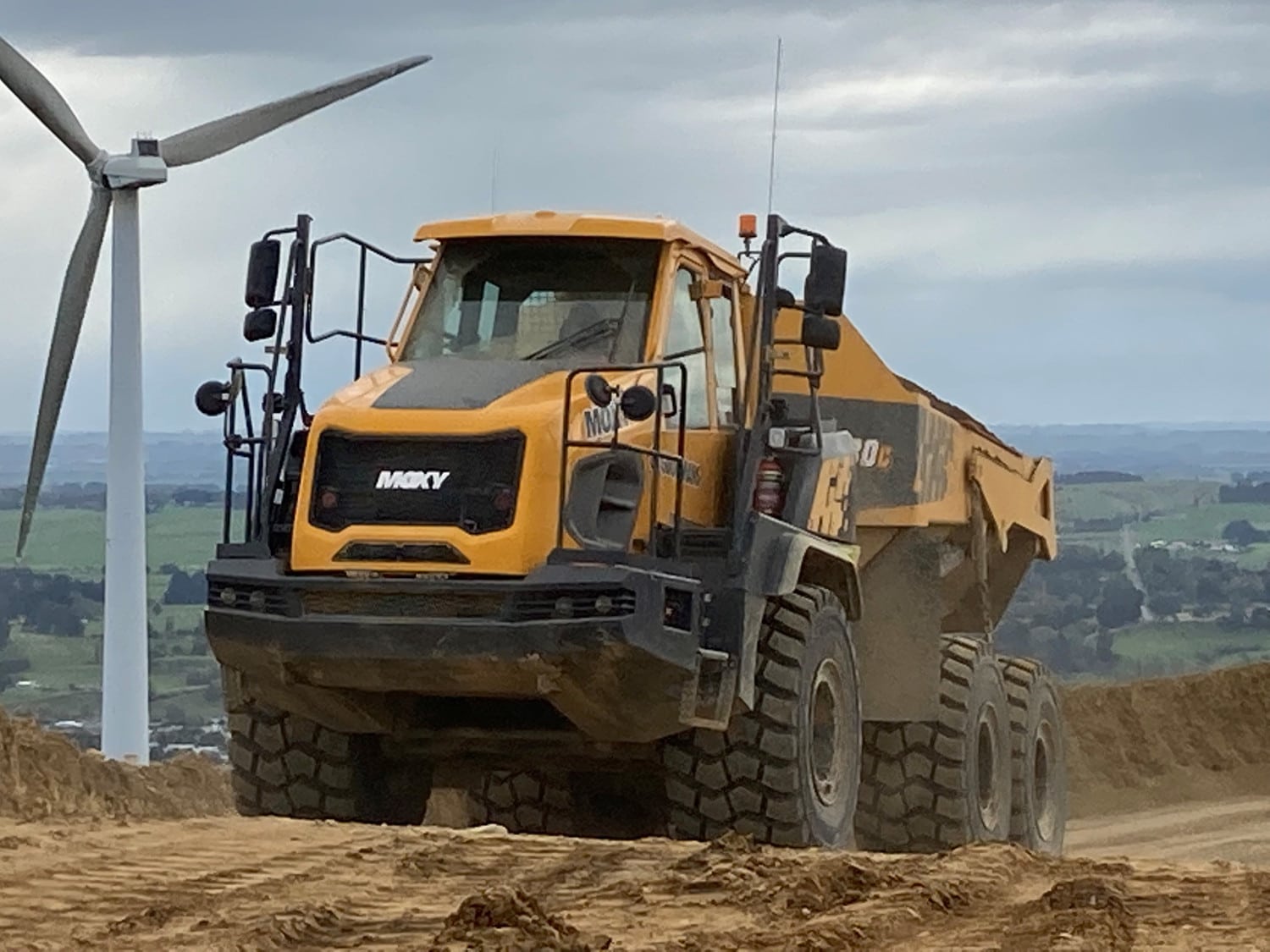 Key features on both models include:
Front-Mounted Articulation Hinge: Moxy dump trucks are equipped with a front-mounted articulation hinge, allowing for excellent maneuverability and articulation when navigating challenging terrain.
Two Limited-Slip Differentials: These trucks are designed with two limited-slip differentials, enhancing traction and stability on uneven or slippery surfaces, which is crucial for efficient off-road operations.
Manual Differential Lock: Moxy dump trucks feature a manual differential lock, providing the operator with the ability to lock the differentials when needed, ensuring optimal power distribution to all wheels for maximum traction.
Sloping Rear Frame: The inclusion of a sloping rear frame is a distinctive feature that aids in efficient dumping and unloading, making it easier to discharge materials with precision.
Gear-Driven Tandem Axle: Moxy dump trucks utilise a gear-driven tandem axle system, offering robust and reliable performance under heavy loads, ensuring durability and consistent power distribution.
Additional load capacity, combined with superior power and traction, improve productivity.
Top performance and efficiency
Moxy ADTs use only proven, reliable and powerful diesel Scania engines with excellent torque, which achieve low fuel consumption and meet Tier2/3/4F regulation requirements.
Moxy's standard real-life payload and load count meter provides the operator and owner with an immediate indication of productivity. External indication lights help load the body more efficiently. A powerful hydraulic retarder keeps the machine's speed constant on downhills without the support of service brakes. The operator can easily adjust the retarder's power by lever or simply pushing the gas pedal.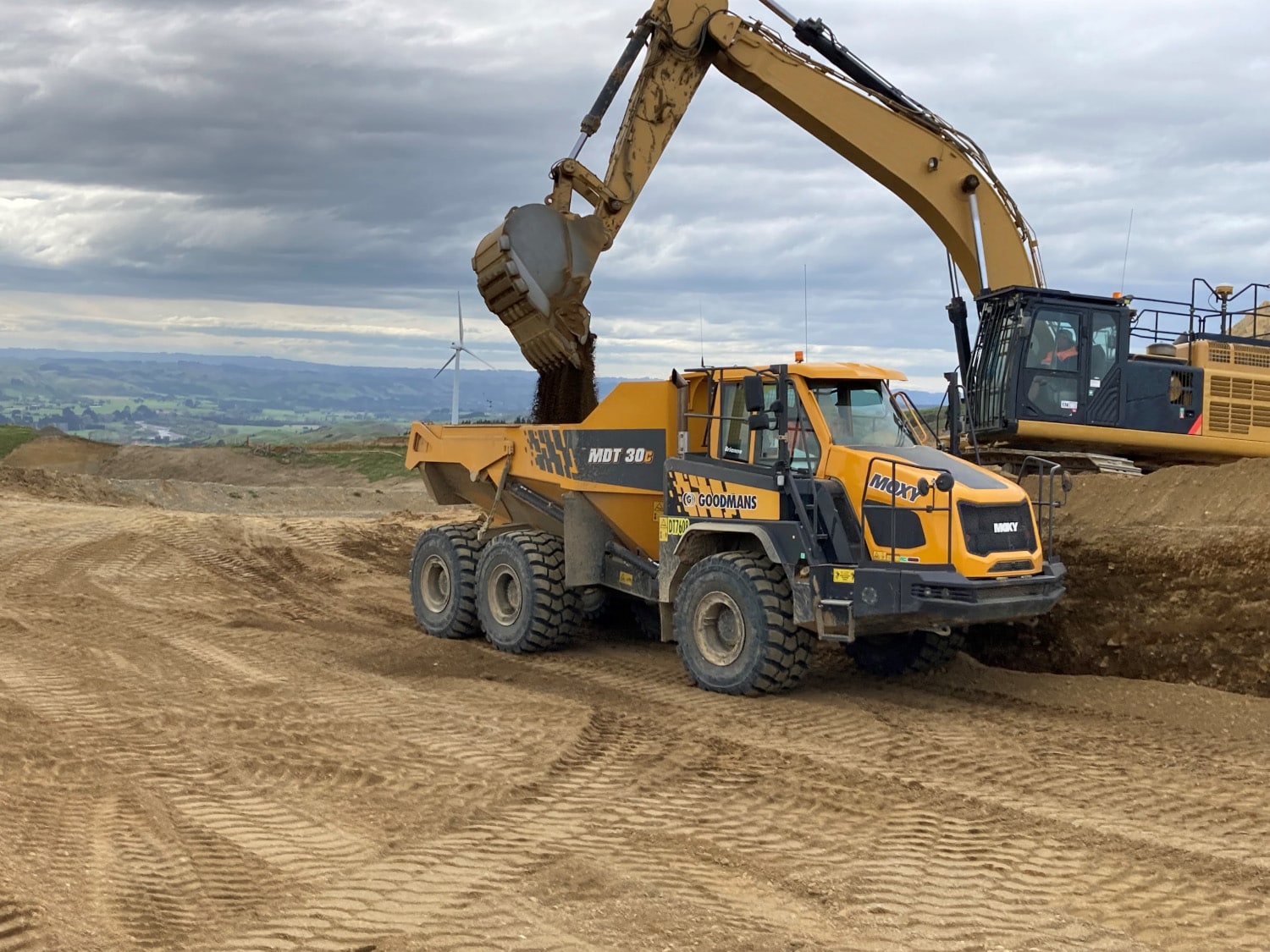 The turning ring is located in front of the articulation point, ensuring equal weight distribution to the front wheels in all operating situations, including maximum turning. The equal weight distribution enables the operator to use the limited slip differentials with only 45% locking value – ensuring drive to both front wheels in all situations, without completely locking the wheels.
In addition, the front-mounted turning ring gives superior front chassis loading, significantly lessening the possibility of cab roll-over – a great safety feature.
Contact MIMICO if you'd like to find out more about the Moxy ADT.