Applications
These small but powerful pavers are especially designed for reinstatement and construction works which require low working widths. Particularly job sites like cycle-tracks, side walks, pavement-extensions, car-parks and sport-fields are ideally suited for Dynapac mini-pavers.
Features
HIGH WEARING COMFORT
The adjustable shoulder straps give the operator the comfort needed to work ergonomically for a whole day. The RC 360 comes with a case, charging devices with machine connector, and for external supply.
HIGHEST SAFETY LEVEL
When the operator exceeds a distance of 10m, the paver stops. The paver also stops automatically when the remote is tilted higher than 45°.
JOBSITE CONFIDENCE & SAFETY
Get the operator away from asphalt fumes With the Dynapac RC360, the operator can keep a distance from the asphalt fumes. The safest way to fulfill local regulations.
Extremely useful in demanding paving situations Whenever precise paving is required, the Dynapac RC360 allows the operator to position himself in the place with the best visibility. The best conditions result in a perfect paving job.
Specifications
MASSES
Mass (incl. standard screed): 7.0 t
TRACTION
Paving speed: up to 27 m/min
Transport speed: 3.3 km/h
ENGINE
Manufacturer/Model: Deutz TD2.9 L4
Emissions according to: EU Stage V / EPA Tier 4f
Rated power: 55.4 kW (75 hp) @2200 rpm
Electrical system: 2 x 24V, 72 Ah
Fuel tank capacity: 85 l
ALTERNATIVE ENGINE
Manufacturer/Model:Deutz TD2.9 L4
Emissions according to: EU Stage III / EPA Tier 3
Rated power: 54 kW (73hp) @2200 rpm
Electrical system: 2 x 24V, 72 Ah
Fuel tank capacity: 85 l
OPERATION
Operator console: Slidable left/right
Platform: Extendable platform
CONVEYOR
Conveyor type: Splitted conveyor drive with center cover
Conveyor width: 620 mm
Conveyor control: Automatic with limit switches
Dimensions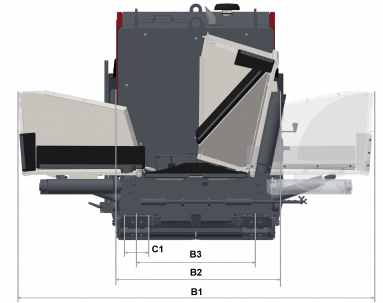 A. Axle track 1400 mm
B1. Width, max.2820 mm
B2. Width, standard 1430 mm
B3. Width, center of tracks 940 mm
C1. Track width 200 mm
H2. Height, transport 2020 mm
L1. Length, total 4780 mm
L2. Length, transport, 4380 mm
L3. Length, hopper, 1605 mm
Considering your next asset purchase? Speak with one of our team today. 
The Parts team at MIMICO have a comprehensive knowledge of our machinery and equipment.
MIMICO's service team are readily available to answer your servicing needs.
Sign up to our newsletter for regular updates on news, promotions, deals and offers.