Applications
Dynapac's range of small and medium-size vibratory rollers are used to compact all types of soil with the exception of rockfill. The rollers are suitable for most types of road construction, airfields, dam construction, harbour projects and industrial constructions. Heavy-size vibratory rollers are used for a very wide range of applications. The thickness and grade of the drum's steel are adapted for compacting rockfill, although vibratory rollers are also known for their excellent performance on other types of fill. A special version with a padfoot drum (PD) is available for compacting cohesive soils.
Specifications
MASSES
Operating mass (incl. ROPS): 11800 kg
Operating mass (incl. Cab): 11900 kg
Operating mass (incl. Canopy): 11700 kg
Module mass (front/rear): 7000/4900 kg
Max. operating mass: 12000 kg
TRACTION
Speed range (Single Speed/Dual Speed/Traction Control): 8/8/11 km/h
Tyre size (8 ply): 23.1 x 26
Max. theoretical gradeability: 53 %
Vertical oscillation: ±9º
Number of pads: 130
Pad area: 146 cm2
Pad height: 102 mm
COMPACTION
Static linear load: 32.9 kg/cm
Nominal amplitude (high/low): 2.0/1.1 mm
Vibration frequency (high/low amplitude): 30/30 Hz
Centrifugal force (high/low amplitude): 270/150 kN
Dimensions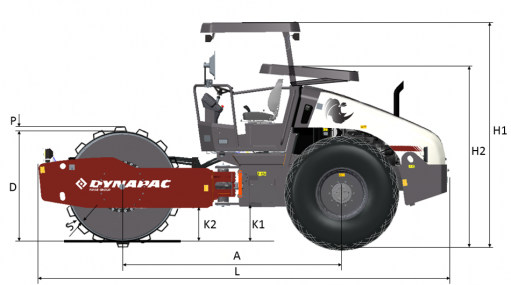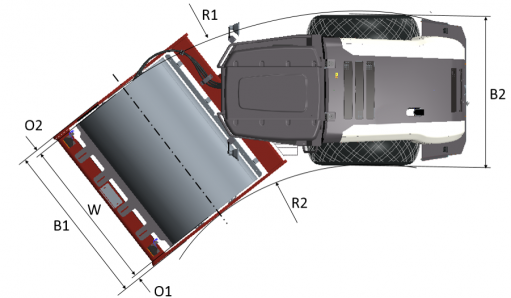 A. Wheelbase 2990 mm
B1. Width, front2256 mm
B2. Width, rear 2130 mm
D. Drum diameter 1694 mm
H1. Height, with ROPS/cab  2890 mm
H2. Height, w/o ROPS/cab 2400 mm
K1. Ground clearance 460 mm
K2. Curb clearance 460 mm
L. Length 5560 mm
O1. Overhang, right 63 mm
O2. Overhang, left 63 mm
P. Pad height 102 mm
R1. Turning radius, outside 5650 mm
R2. Turning radius, inside 3255 mm
S. Drum shell thickness 20 mm
W. Drum width 2130 mm
α. Steering angle ±38°
Considering your next asset purchase? Speak with one of our team today. 
The Parts team at MIMICO have a comprehensive knowledge of our machinery and equipment.
MIMICO's service team are readily available to answer your servicing needs.
Sign up to our newsletter for regular updates on news, promotions, deals and offers.