Round 5 – D1NZ Ends on a Spectacular Climax!
The D1NZ 2023 season concluded with a thrilling and unpredictable final round that left motorsport enthusiasts on the edge of their seats. As the drivers battled their way to the top, they faced not only fierce competition but also the unexpected challenge of Mother Nature.
In the days leading up to the final round, the weather took a turn for the worse, creating uncertainty for the event. Torrential rain had pounded the track for two weeks, leaving the newly poured concrete section in a vulnerable state. The track surface began to deteriorate, posing a significant risk during practice sessions.
Undeterred by the adversity, a dedicated group worked tirelessly to find a solution. Despite their efforts, the cement failed to dry in time, forcing the organisers to grind the top layer and apply a fresh coat of asphalt just hours before qualifying. The compressed schedule meant limited track time for the drivers, but they were grateful for the opportunity to compete.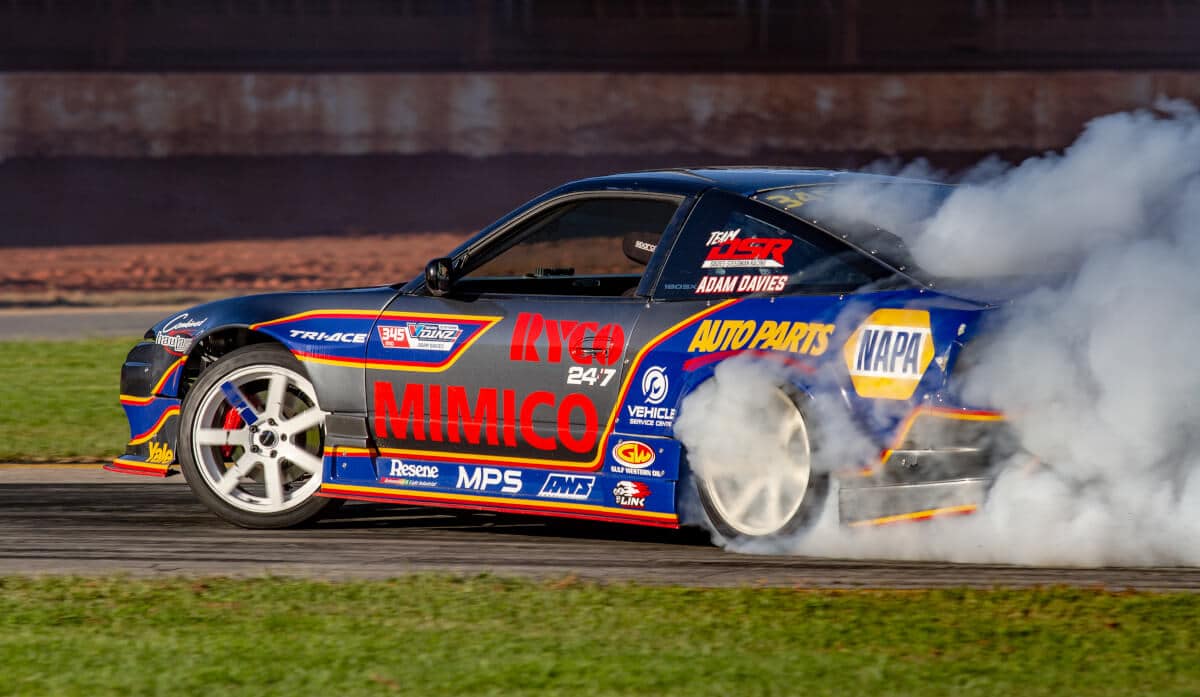 Adam made his way into to a third and fourth place battle.
During qualifying, Adam and Dave, experienced drivers at Bay Park, put in solid performances despite a minor setback. They secured spots in the Top 24, with Adam finishing in 16th place and Dave in 18th place.
Saturday brought intense battles as the drivers fought to secure their positions. Dave faced off against Jason Ferron, displaying remarkable precision and determination, which earned him a well-deserved victory and a place in the Top 16. Adam, in his battle against Michael Thorley, faced a risky moment but managed to overcome it, securing a win, and advancing to the Top 16 as well.
Unfortunately, Dave's journey ended abruptly when a burst boost hose caused him to lose power, ending his evening prematurely. Adam, however, faced Daniel Wolhouse in the Top 16 and showcased his unwavering determination, ultimately securing a spot in the Top 8.
Adam's journey continued as he faced Nico Reid in the Top 8. A collision during Nico's lead lap gave Adam a significant advantage, and a flawless lead run sealed his victory, propelling him into the Top 4.
As the dust settled on the remarkable 2023 season,
Dave secured 3rd place in the championship
.
In the Top 8, Dave faced off against Jordan Joyce, winning the battle after Jordan got lost in Dave's smoke and made a correction. Adam took on Troy Jenkins, with Troy also getting lost in the smoke and coming off track, putting Adam into the Top 4.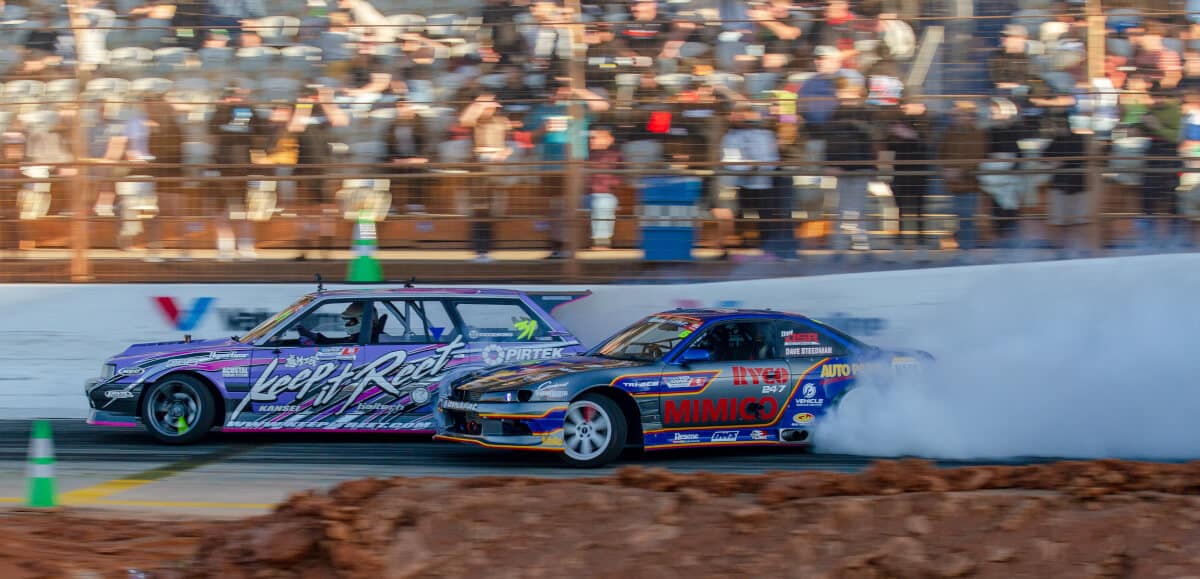 Dave works his way to third place in the Championship!
In a high-stakes battle against Cody Pullen Bury, Adam's hopes for the podium were dashed due to an unintended contact that damaged his car. Despite the team's tireless efforts to repair the damage, Adam had to make the heart-breaking decision to forfeit the second half of the battle, ending his podium dreams.
End of the Season
The battle for 3rd and 4th place featured Liam Burke, who injected a new level of intensity after coming out of retirement. Adam, determined to prove himself, gave his all, but the compromised speed due to the damage hindered his progress. Though victory eluded him this time, Adam's unyielding spirit was evident throughout.
As the dust settled on the remarkable 2023 season, Dave secured 3rd place in the championship, a well-deserved achievement after his exceptional performances in previous rounds. Adam's journey also saw positive results, with commendable 4th place finishes in two rounds, and a 7th place overall finish despite setbacks and points deductions.
The organisers expressed their gratitude for the unwavering support from fans, media coverage, and the vibrant social media community that has propelled the sport to new heights. As they prepare for the next season, they invite everyone to join them once again in pushing boundaries and creating unforgettable moments on the racetrack, fuelling the passion that drives them forward.
Round 4 – A Nail-Biting Event From Start to Finish!
The Team DSR drivers had a testing session ahead of them at D1NZ's Round 4 at Manfield. Dave was feeling comfortable in his S14, while Adam's 20b was misfiring. Not to be deterred, Adam hopped into the 13b to get some laps in on Friday. Unfortunately, disaster struck when the clutch went out on both 180sx's by the end of practice. The Team worked tirelessly through the night to get everything back in shape for Saturday's events.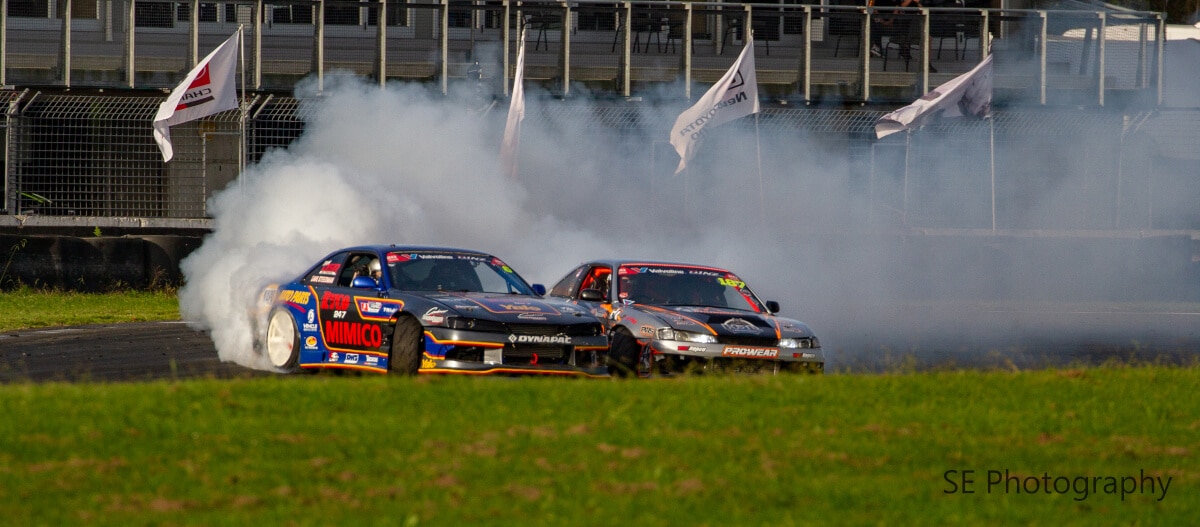 There were close battles throughout the event.
Saturday morning saw the drivers back in action, with Dave feeling more confident and Adam's 20b finally on song after a few tweaks. However, just before qualifying, Adam encountered another issue when the steering rack mount bushes decided to call it quits. With no time left to fix it, Adam jumped straight into the 13b and managed to qualify in second place overall with an amazing 89 points. Dave also qualified well, with 85.5 points, securing his spot in the Top 16.
Sunday's schedule had the drivers revved up and ready for battle. Dave had changed his diff ratio and both drivers were feeling good. Dave managed to beat out Scotty Dinsdale to move on to the Top 8, while Adam's battle with Conner Halligan saw Conner come off the track early in the section, giving Adam a 10-0 advantage.
Dave is now in 3rd place overall in the championship and Adam in 9th.
In the Top 8, Dave faced off against Jordan Joyce, winning the battle after Jordan got lost in Dave's smoke and made a correction. Adam took on Troy Jenkins, with Troy also getting lost in the smoke and coming off track, putting Adam into the Top 4.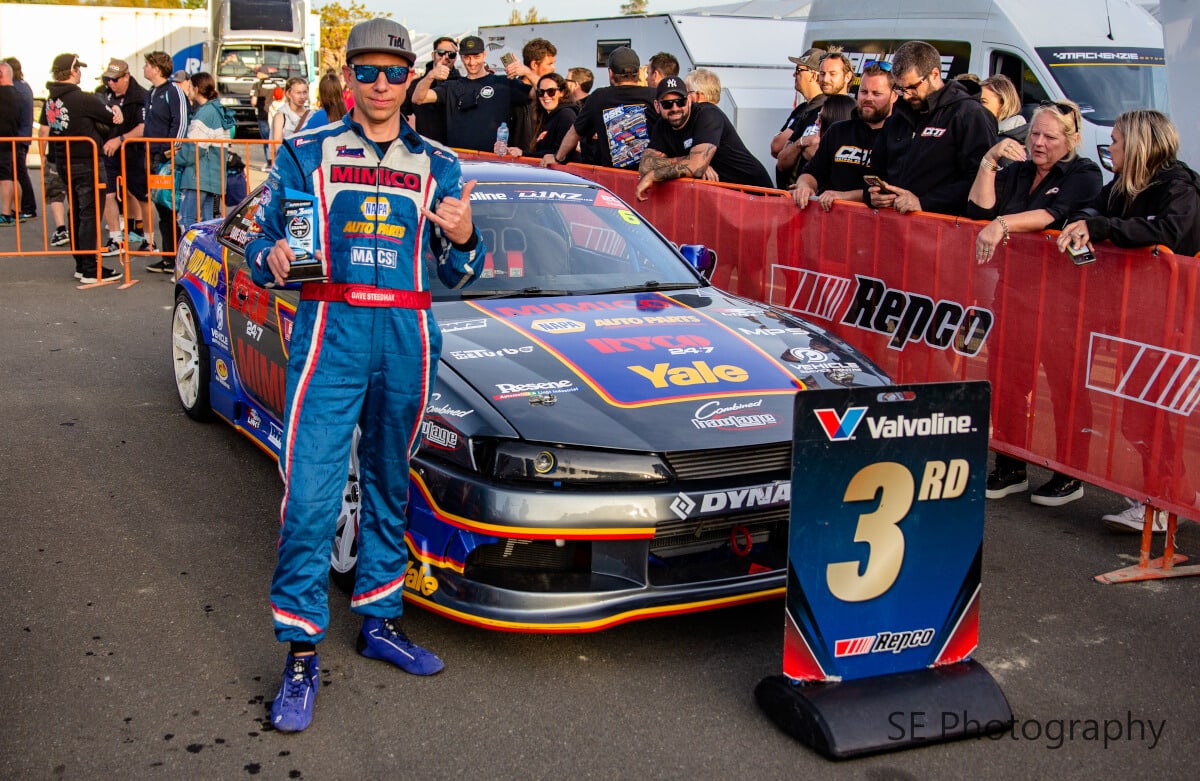 Dave takes another podium in the 2023 season!
Dave then battled Taylor James, putting up a great fight but ultimately losing to Tay's rocketship. Meanwhile, Adam had Daniel Woolhouse to contend with. Unfortunately, Adam lost all drive in the 13b and straightened out, giving Daniel a 10-0 advantage. Despite the Team's frantic efforts to fix the clutch issue during Adam's 5-minute call, they were unable to diagnose and fix the issue in time, handing Daniel the win.
Bitter Sweet
The Team DSR cars were supposed to battle it out for 3rd place, but Adam's 13b clutch was still giving him trouble, leaving Dave to take 3rd place by default while Adam ended in 4th. It was a bit of a disappointment, as it was the first time Team DSR's drivers were on opposite sides of the battle tree. The two drivers were positioned to battle each other in the final. Team DSR still managed to secure great results. Dave is now in 3rd place overall in the championship and Adam in 9th.
The final round takes place at Bay Park this weekend on May 12th and 13th. Will the Team DSR drivers be able to battle it out for the top step? Only time will tell, but we'll be eagerly watching and cheering them on every step of the way.
Round 3 – Team DSR Moves to the Top Step of the Podium!
The D1NZ 2023 round 3 in Taupō was an intense, harsh, yet rewarding event. Adam and Dave came into the event with nothing to lose. Adam in 19th and Dave in 14th place after the first two rounds. After a decent practice session on Friday, Mitch Larner suffered an engine failure. Adam lent him his secondary car, the "Unicorn." However, the gearbox had to be replaced after experiencing a bent input shaft. To top it, the team suspected a bent side seal in Adam's 20b. Things weren't looking good.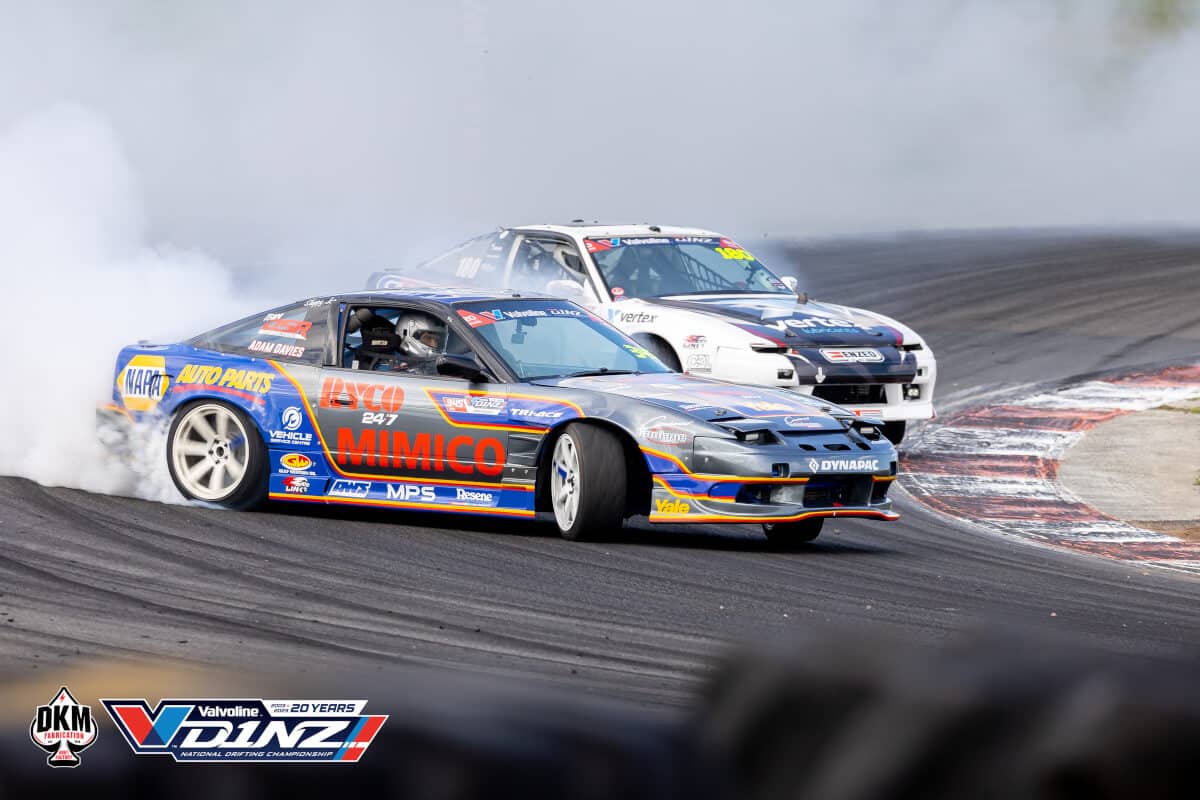 Team DSR pulling out all the stops at Taupō.
Dave had a few issues, but both drivers managed to qualify. Dave netted 86.5 points and Adam accumulated 85.0 points, placing them in 7th and 9th place, respectively. There were still some gremlins at play, as the team had to remove the gearbox three times due to a leaking slave cylinder. Thankfully, the crew rectified the issue and got the car ready in time for the Top 16 battle on Sunday.
Adam faced Michael Thorley in the Top 16. The battle was too close to call, resulting in an OMT (One More Try). Unfortunately, Adam's chase lap lacked angle caused a big understeer. As a result Thorley won the heat. On the other side of the garage, we had Dave battling Alex Griffin. Thanks to him keeping decent proximity and a good line behind Alex, he won the heat.
In the final round it was a face-off between Dave and Micheal Thorley, who eliminated Adam in a previous heat. It was time for redemption.
Next up was his old friend, Nico Reid, in the Top 8 who started off well, but failed to initiate on Dave's lead. His misfire gave Dave the win. Dave went head-to-head against Taylor James in the Top 4 who, up to that point, had a rocket-ship of a car. Dave managed to win by keeping his focus on proximity and a good line.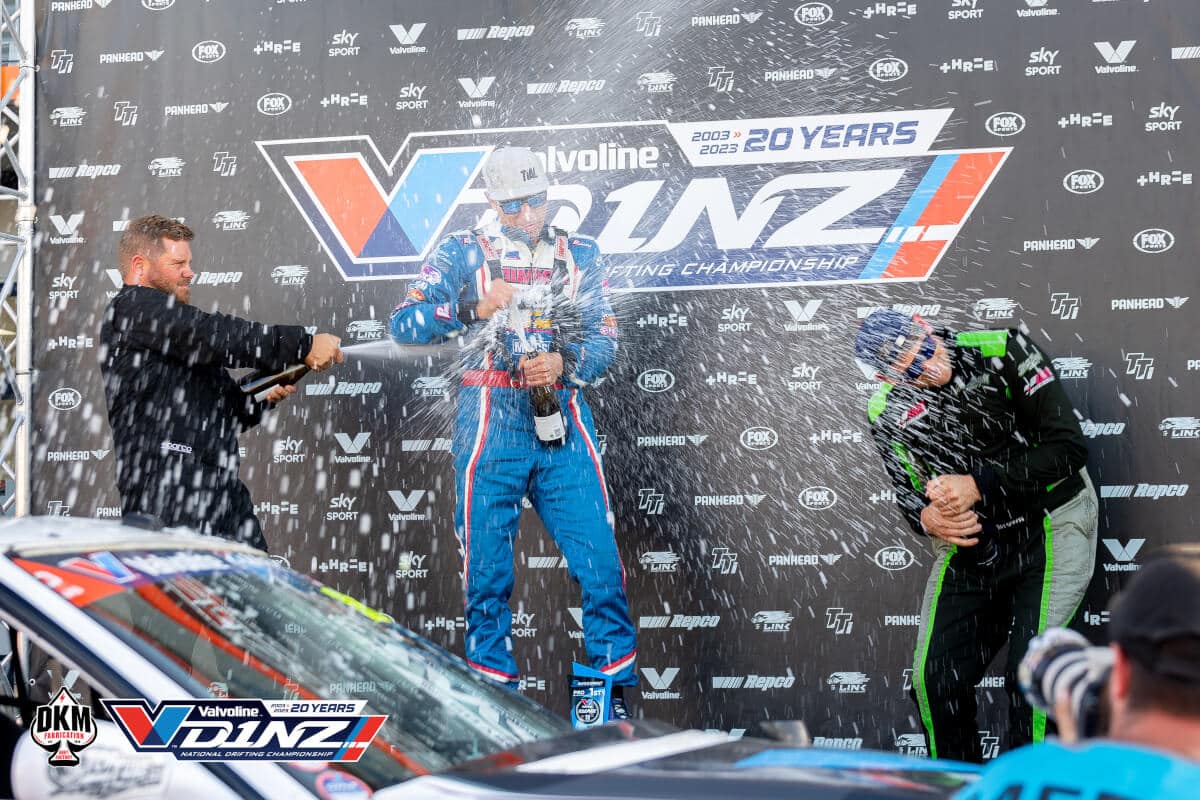 Dave celebrates his first place in Taupō!
In the final round it was a face-off between Dave and Micheal Thorley, who eliminated Adam in a previous heat. It was time for redemption. A solid lead from Dave and Thorley left it to the final pass. Dave stayed close to Thorley, but the diff let go at the end of the run. The judges deemed it beyond the end of the section and awarded Dave with the win for the round.
That Winning Feeling!
This 1st place finish launched Dave up from 14th to 4th place in the championship standings. Adam was bumped up by one position to 18th place, with two rounds remaining.
This was a frantic round for the Team. They were very pleased to end it on a high with a victory and it is much deserved after all the hard work!!
Next stop on the calendar is at Manfeild, which has traditionally been a great hunting ground for both Adam and Dave.
Round 2 – A Mountain to Climb for Team DSR
Team DSR experienced mixed results during Round 2 of the D1NZ calendar at Mt Smart Stadium in Auckland. Dave Steedman struggled with side grip during his first practice session, while Adam Davies scratched his car on the first turn. Dave found more grip in his second practice session, but still felt something was off.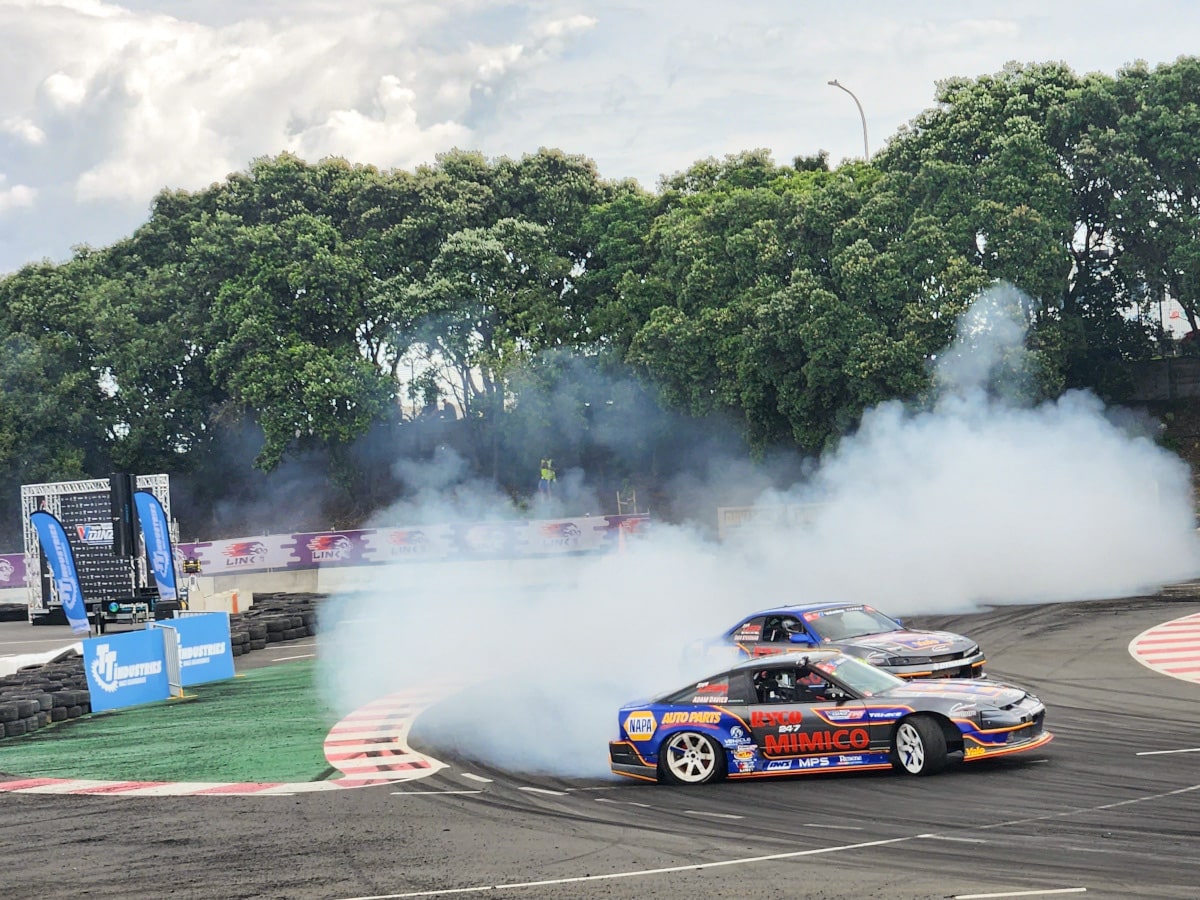 Adam and Dave head out for practice at Mt Smart
During qualifying, Dave managed to pull off two average runs, landing him in 10th place, while Adam's day took a turn for the worse when he over rotated on the second corner, resulting in a bent rack and loose shock. Although he qualified in 22nd place, his run was deemed null and void due to three wheels leaving the track, knocking him out of the competition.
Dave's performance earned him enough points to move from
19th to 14th
after Round 2.
On race day, Dave was the only remaining driver with a chance to make the most of the competition. He won his first battle in the Top 24 when his opponent, James McManaway, stopped on the track, blinded by smoke in his cabin. Dave drove into the back of James, resulting in minor cosmetic damage, but he still qualified for the Top 16.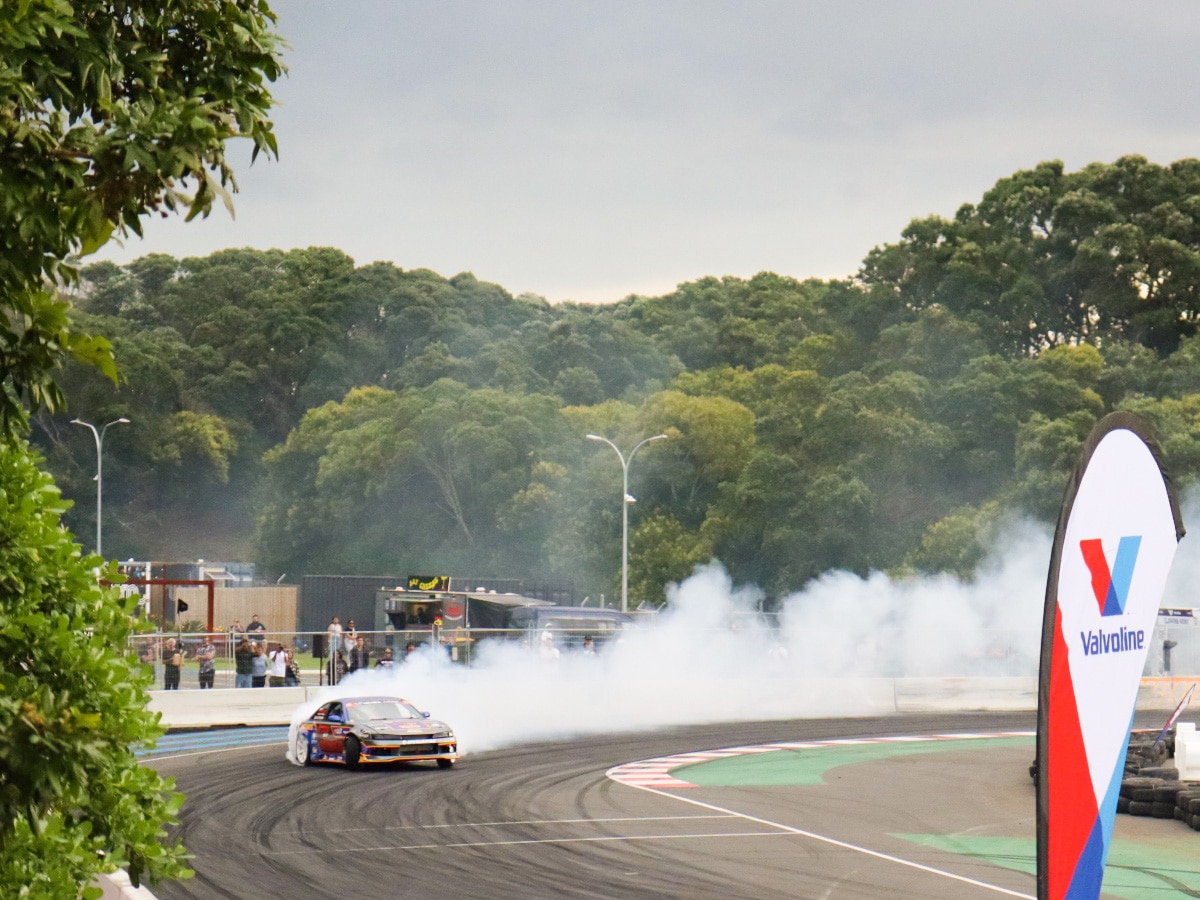 Dave's qualification run for 10th place
His next opponent, Cody Pullen Bury, hit the wall on the second corner, giving Dave an immediate advantage to move into the Top 8. However, Daniel Woolhouse's experience proved one step too far for Dave. He unfortunately collected the wall in the second corner, ending his run.
A Silver Lining
Despite the disappointing end to his day, Dave's performance earned him enough points to move from 19th to 14th after Round 2. Unfortunately, Adam's nullified run caused him to drop from 15th to 19th.
Team DSR will be pushing hard for better results at Round 3 of D1NZ, which returns to Taupo International Motorsport Park on 17-19 March.
Round 1 – Hampton Downs
Car fanatics gathered in anticipation for the return of the D1NZ Drifting Championship Series at Hampton Downs over the first weekend in February.
Team DSR arrived in their new uniforms and car designs to compete against a very competitive field.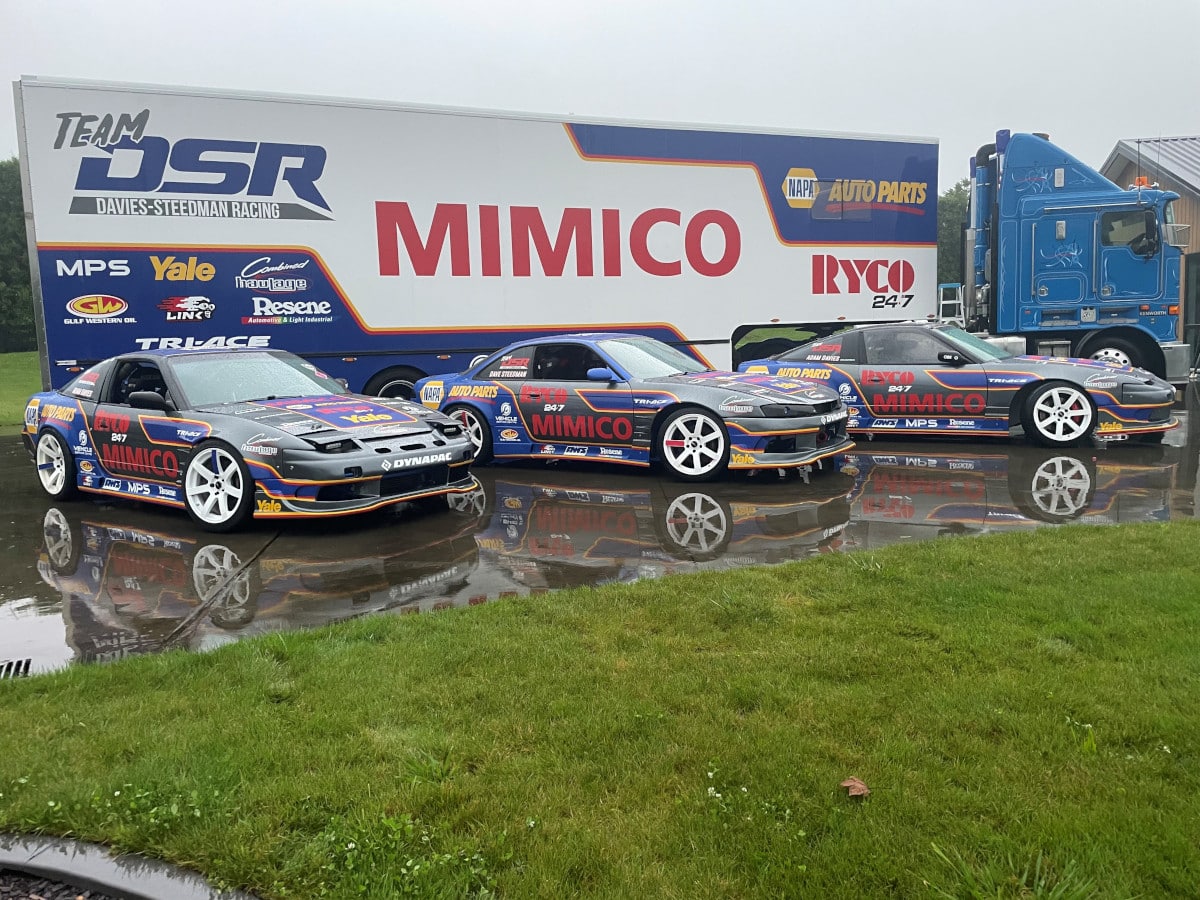 Your team for the 2023 season
Team Sports
They managed to put in some good runs with the limited practice they had. Once qualifying rolled around the skies opened and made for a full wet track, challenging conditions coming straight off the back of dry practice and fresh rubber down on the track.
Dave qualified in 18th and Adam in 15th, not a very convincing result for both of them unfortunately. A poor qualifying result meant that Dave and Adam would see each other first up in the Top 24 elimination battles. A couple of scrappy runs by both of them, but less mistakes made by Adam meant he would advance on to the top 16.
"We will be pushing hard for the podium for Round 2 at Mt Smart".
Adam went up against Daniel Woolhouse in the top 16, but a small mistake in the chase run would ultimately give Daniel the win into the top 8.
"A weekend to put behind us, but we will be pushing hard for the podium for Round 2 at Mt Smart on the 17th & 18th of February"
We expect the team to bounce back with a strong comeback when they start up their engines at Mt Smart Stadium, Auckland later this month.